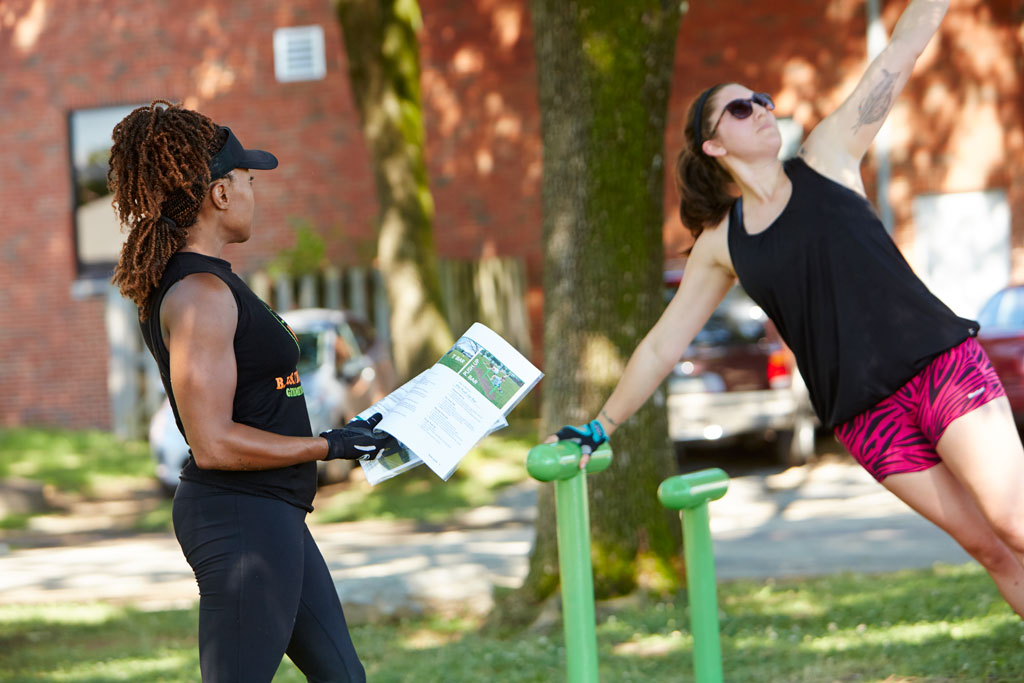 Community outdoor gyms are more than just places to exercise. They're not just about breaking a sweat; they're about building connections and making communities healthier and happier.
You can make a real difference in your community's health and well-being by adding outdoor gyms in your local park. They're spots where people meet, make friends, and feel good. These gyms help your people stay fit, have fun, and feel better. Plus, they're free.
It also means people are more likely to exercise regularly because it's right there in their neighborhood. And let's not forget the mental health benefits. Fresh air, sunshine, and a bit of nature can do wonders for our mood.
When setting up these gyms, you want equipment that lasts. That's where ActionFit comes in. We make strong, reliable outdoor gym gear that people love to use. It's not just about durability; it's about making sure folks of all fitness levels can get a good workout.
Let's dive deeper into how you can bring this vision to life in your community!
The Rising Trend of Outdoor Gyms
Outdoor gyms are popping up everywhere due to the global shift towards health and wellness. From city parks to beach spots, they're becoming a favorite for many. Plus, Their impact on community health and wellness is undeniable, with numerous studies highlighting their role in reducing obesity rates, improving mental health, and fostering community spirit.
Take Warner Park in Chattanooga, TN, for example. This place was already buzzing with a zoo, playground, and sports spots. But in 2012, they added a twist: 16 outdoor fitness stations set up along a 2/3 mile trail. Whether you're a newbie or a fitness pro, there's something for everyone with different difficulty levels at each station. 
And guess what? This cool idea was a team effort between PlayCore and The University of Tennessee. Now, Warner Park isn't just a fun spot; it's a go-to place for fitness and hanging out with neighbors.
Cities like Los Angeles and Sydney are also jumping on the bandwagon, adding outdoor gyms to their city vibes. It's clear: outdoor gyms are the new "in" thing, and they're here to stay.
Preliminary Planning for an Outdoor Gym
Before you start, see if people in your area are interested. Form a planning committee comprising local stakeholders, fitness enthusiasts, and community leaders. Setting clear objectives to build outdoor facilities, such as promoting adult fitness or offering inclusive equipment. Think about who'll use the gym. Is it for families? Older folks? Fitness enthusiasts? This will help guide your planning.
Budgeting for Your Community Outdoor Gym
Budgeting is a crucial step while designing an outdoor gym. Consider equipment costs, installation charges, surfacing costs, and maintenance expenses. Budgeting involves the following key areas:
Equipment Costs

: Quality gear, like ActionFit's offerings, might cost more upfront but saves in the long run.

Installation: Community builds can save cash, but professional installation ensures proper install which may prove worthwhile.
Surfacing:

Depending on the equipment surfacing may be required, and is a substantial cost depending on the type you choose.

Maintenance

: Set aside funds for regular upkeep to avoid future hiccups.

Funding Options

: Look into local grants or community fundraisers. Local businesses might sponsor in exchange for some visibility.

Cost-saving Tips

: Consider bulk purchases or seasonal deals on equipment. Engage the community for volunteer maintenance days to keep costs low.
Choosing the Ideal Location
While choosing the location for an outdoor gym, pick a spot that's easy to get to, safe, and can be seen by many people in your neighborhood. Consider legal and environmental implications, and engage community members in the decision-making process to ensure the gym's success.
Selecting the Right Outdoor Gym Equipment for Adults
Choose equipment that is right for grown-ups, suits everyone and promotes inclusivity. ActionFit offers a wide collection for outdoor gym equipment. 
You also need to make sure the equipment you choose is durable and made to withstand the elements. Think about variety too. Some folks love cardio, while others are all about strength training. A mix of equipment will keep everyone happy, and ensure a well-rounded workout.
Design and Layout of the Outdoor Gym
Design a layout that's user-friendly and inclusive. Consider equipment spacing, flow, and zoning. Ensure the design is ADA compliant, promoting accessibility for all. Everyone in your community should be able to enjoy it.
Installation and Safety Protocols
Whether opting for professional installation or a community build, prioritize safety. Keep the gym in good shape and hazard-free with regular checks and fixes. Maybe set up a community group to keep an eye on things and report any issues.
Launching and Promoting the Outdoor Gym
Organize an opening event to engage local residents. Spread the word online and offline channels to promote the gym. Consider hosting fitness events and classes to ensure ongoing engagement.
Get a Quote for Outdoor Fitness Equipment
Community outdoor gyms are more than just fitness spaces; they're hubs of community engagement and wellness. By investing in quality equipment and fostering community involvement, these gyms can transform urban spaces into health-promoting zones. So, why wait? Let's make it happen! Check out ActionFit's top-notch outdoor gym gear. Let's work together to build a fun, fit future!
Click to View Our Products